---
Parking: A Diamond Parking lot is available in front of our restaurant. When you arrive, please notify the host or hostess to receive complimentary parking after 5 p.m.
---
---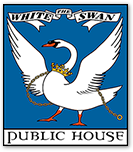 The White Swan Public House
1001 Fairview Avenue North
Seattle Wa 98109
Hours:
Monday through Saturday – 3:00 p.m. to 10 p.m.
Closed Sundays
phone: 206-588-2680
email: contact@whiteswanpublichouse.com
For catering and private events, please contact us at events@whiteswanpublichouse.com
Patio seating is first-come, first-served basis. We keep a number of reserved tables indoor for walk-ins. If you are unable to find a reservation online, please call us at (206) 588-2680. Thank you!
---
---